All About Growing Orchids $19.95 2005 revised edition. The Best General Orchid Culture Book available.


Guide to Orchids $14.95 Excellent book, good pictures, easy text and cultural coded



Botanica's Orchids $17.50 Over 1,200 Species Photos and Information

SOLD OUT
Orchid Growing Basics
Dr.Gustav Schoser $12.95 A easy to read book with many illustrations and pictures.

The Orchid in Lore and Legend
Luigi Berliocchi $25.95 A well written book, exploring myths and legends about orchids.(Hardback)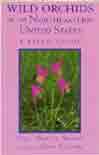 Wild Orchids of the NE US
Paul Martin Brown
$15.95
Covers native orchids in New England, NY, and adjacent areas of PA and NJ


African Orchids
La Croix, Isobyl and Eric
$39.95
Also out of print, Excellent book on Sub Sahara Orchids, Photos good


Manual of Orchids Royal Horticultural Society
$34.00
This book covers most of the orchid species in cultivation.
Excellent cultural info and many line drawings


Orchids for Dummies
Steven A. Frowine
$10.95
A well written and illustrated book on general Orchid culture


Orchids Care and Cultivation
G. Leroy-Terquem
$40.95
A well illustrated Orchid book,
with very practical cultural information.


Ultimate Orchid
Dr. Tom Sheehan
$17.50
Lavish Pictures, Great Text