25% off on all FUNGICIDES !!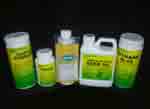 25% off on all FERTILIZERS !!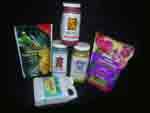 Orchid Books
Now is a good time to add to your orchid knowledge, by reading a good orchid book. Books always make great gifts, particular for ourselves! You may save up to
40%
on their extensive selections of Orchid books at Amazon. Amazon has FREE Shipping on most orders over $25.
| | | |
| --- | --- | --- |
| Issue# Vol 6 - 1 | March 2010 | |
Dear Email List Member,



Camp Lot A Noise Tropicals wish you, and yours, a Happy and Prosperous New Year!

We hope your holidays were safe and enjoyable. We also hope you and your orchids had a healthy and happy 2009. Thank You all for your patronage and loyalty during 2009. You all helped make it another successful year!

From December 15 to March 4, All Shipping was suspended to avoid the "Christmas Crunch", and the very bad winter conditions, CLAN is now back on regular shipping schedule. However, even until late spring, shipping can get tricky. If you find something in the

webstore

, but are worried about shipping now, fear not, your order can be held until warmer weather prevails.

MARCH SALE - 25% off on all ORCHID SUPPLIES !!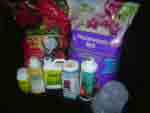 Non-perishable savings!
Even though it is cold now, time for repotting your orchids is not that far away! Now is the time to prepare by stocking up on pots, media, pesticides, fungicides, and other orchid related supplies. Save money during January. Orders placed this month for non-perishable items will receive an additional 5% discount ( 25% total )!! Use discount code: MAR10 at the shopping cart checkout. Webstore and Mail orders only!! Save even more, FREE SHIPPING on supply orders over $75.
25% off on all REPOTTING SUPPLIES !!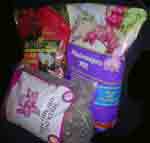 Amazon.Com Orchid Book Links >>
Top 36 Orchid Books Orchid Cultural Books
New Orchid Books General Orchid Books
Scientific Orchid Books By Orchid Genus
By Regions
Hard to Find Books
Cultural Tip of the Month

Winter Baddies

Short days, dull, overcast days, and cool temperatures during the winter, all add up to great conditions for the"baddies of winter" (rots, fungus, bacteria and molds) to thrive. Fungus and bacterial rots attack your orchids, primarily through their roots, leaves, and open wounds. The moist conditions,of spring, will accelerate the spread of fungus, molds, and rots. If you must water your orchids, do so lightly. After watering raise the temperature in the growing area, to dry the plants quickly. Increasing ventilation will speed the drying process. Try to avoid splashing water from one plant to another, as fungal spores and bacteria can be spread through the splashing water.

Always have a good fungicide/bactericide readily available. Dithane M45, Captan, Thiomyl, Physan20 are excellent choices. Dithane M45, Captan, and Thiomyl are water souble powders, which can be spreaded on infected plants. They also can be made into a paste to seal cut areas, or wounds on the leaves. Physan20 is a liquid. Physan20 is an outstanding fungicide/bactericide/viricide, which can be mixed into your watering regime to kill fungus, bacteria, and to prevent molds and algae from forming. Watch your plants carefully this time of year. If fungus, rots, or molds are noted. Act quickly, and aggressively, so you limit the spread of any "winter baddies". Vigilance, careful watering, good ventilation will carry you and your orchids through the winter months happy and healthy. More in depth discussion of "rots" can be found here
Have a Great Spring!!!

Sincerely,


Karen, Jerry and The CLAN Gang

Camp Lot A Noise Tropicals